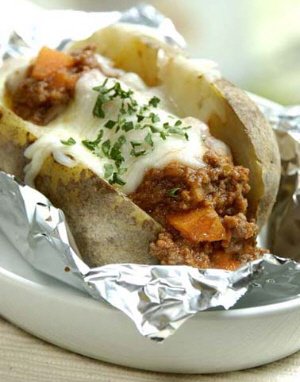 Product(s) Used for this Recipe
Baked Potatoes with Cheesy Mince Meat

Ingredients
4 large russet potatoes, wash and scrub skin clean

TOPPINGS:
200G Prego Roasted Garlic Parmesan
324g minced beef or chicken
2 tsp chopped garlic
1 carrot, diced
1 celery stick, sliced thinly
1 beef (or chicken) seasoning cube
1/2 cup water

2 tsp corn flour
2 tbsp water

Some shredded cheddar cheese
3 tbsp olive oil for cooking


Cooking Detail
Preparation time : 30 minutes
Cooking time : 1 hour
Serves : 4


Methods
1) In a large saucepan filled with water, boil potatoes whole for 30 minutes or until cooked. Drain and leave aside.
2) Heat 3 tbsp olive oil, saute garlic and add in minced meat. Stir fry for 3 minutes until partially cooked, add Prego Roasted Garlic Parmesan and the rest of the toppings and simmer for 30 minutes until meat is tender.
3) Slit potatoes lengthwise and across. Brush potatoes generously with olive oil and bake in a preheated oven at 1800C for 20 minutes.
4) Remove from oven, spoon hot minced meat mix and cheddar over potatoes.
5) Serve immediately.

TIPS:
1) The potatoes may be put into the hot oven for a few seconds after the meat and cheese topping are added. This gives a delicious, soft, melted cheese.
2) Vegetarians may substitute the minced meat with chopped mushrooms.