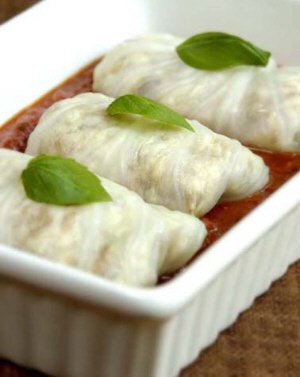 Product(s) Used for this Recipe
Baked Tuna Herb Cabbage Parcel

Ingredients
2 cans tuna, drained and mashed
1 cup breadcrumbs
8 large cabbage leaves
1/2 cup grated cheddar cheese
1/4 cup basil leaves, chopped
1/4 cup onion, chopped
1 1/2 tbsp lemon juice
1 tsp freshly ground black pepper

375g Prego Mushroom & Green Pepper sauce
2 tbsp olive oil

Cooking Detail
Preparation time : 30 minutes
Cooking time : 40 minutes
Serves : 4


Methods
1) Combine tuna, breadcrumbs, cheese, onion, basil and lemon juice in a bowl. Add pepper and salt to taste.
2) Put cabbage leaves in boiling water for 2 minutes or until leaves are tender. Remove and drain. Cut out the top of the thick center vein of the leaves for easier wrapping.
3) Divide tuna mixture into 8 portions. Spoon tuna mixture onto the center of the leaves. Fold in sides and roll up.
4) Pour Prego Mushroom & Green Pepper sauce and olive oil into an oven proof dish. Arrange cabbage parcels on the sauce in the oven proof dish. Cover dish with foil and bake in a pre-heated oven for 20 minutes or until rolls are heated through.