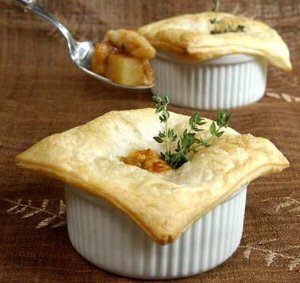 Product(s) Used for this Recipe
Chicken & Thyme Pies

Ingredients
375g Prego Mushroom sauce
250ml water
400g chicken fillet, diced
1 tbsp plain flour
2 tbsp chicken granules / stock concentrate
2 tsp garlic, chopped
1 large onion, chopped
2 tsp fresh thyme
1 cup carrots, diced
1 cup celery, sliced
1 cup potatoes, cooked & diced
2 ready-rolled puff pastry
4 tbsp olive oil


Cooking Detail
Preparation time : 15 minutes
Cooking time : 45 minutes
Serves : 8


Methods
1) Put diced chicken and flour into a plastic bag and shake until chicken is well coated in flour. Shake off excess flour.
2) Heat 4 tbsp oil, fry chicken over high heat until lightly brown. Remove and leave aside.
3) Using the remaining oil, saute onion and garlic until fragrant. Add in diced carrots, celery and potatoes. Stir-fry for 1 minute then add water, Prego Mushroom sauce, seasoning and the fried chicken. Leave to simmer for 25 minutes over medium heat.
4) Turn off fire and stir in thyme. Leave mixture to cool.
5) Preheat oven to 1900C. Divide filling into 6, 250ml oven proof dishes.
6) Cut puff pastry into quarters. Wet the rim of the oven proof dish with water and place puff pastry over it. Press down the edges with a fork. Place the dishes onto a tray and bake for 25 minutes or until pastry is well puffed.
7) Serve chicken pies with a green salad.