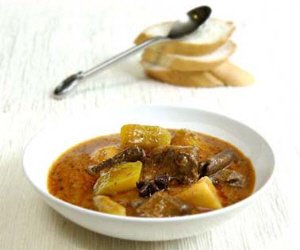 Product(s) Used for this Recipe
Chunky Beef Stew with Vegetables

Ingredients
1kg stewing beef, cut into big pieces
2 star anise
2 cinnamon sticks
5 cloves
1 tsp black peppercorn, crushed
4 large onions, cut into quarters
2 celery sticks, cut to 3cm length
3 potatoes, cut into wedges
1 cup diced pumpkin
Cooking oil

375g Prego Tomato Basil & Garlic sauce
500ml water
1 tbsp sugar
1 tbsp salt

THICKENING SAUCE (Mixed together)
2 tsp corn flour
4 tbsp water
2 tbsp Worcestershire sauce


Cooking Detail
Preparation time : 20 minutes
Cooking time : 1 hour
Serves : 5 to 6


Methods
1) Heat 4 tbsp oil, saute onion, cinnamon stick, star anise, cloves, black peppercorn until fragrant.
2) Add beef and stir fry for 2 minutes. Add Prego Tomato, Basil & Garlic sauce, water, sugar and salt.
3) Once it starts to boil, lower fire, simmer for 1/2 hour, stirring every 15 minutes. Add in celery, pumpkin and potatoes and continue to cook for another 1/2 hour or until beef is tender and potato is cooked.
4)Lastly, add in thickening sauce and turn off the fire when it starts to boil.