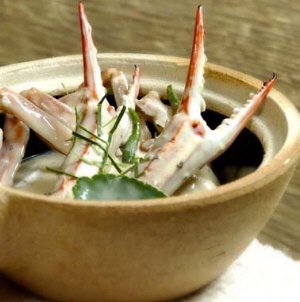 Product(s) Used for this Recipe
Claypot Deep-fried Crabs in Cheesy Herbs Sauce

Ingredients
2 large flower crabs, cleaned and cut into 4
1 tbsp salt
1 tbsp freshly ground black pepper
30g plain flour
20g rice flour
Cooking oil

1 can Prego Cheese & Herbs sauce
1/2 can evaporated milk
4 kaffir leaves
10 birds eye chillies


Cooking Detail
Preparation time : 25 minutes
Cooking time : 20 minutes
Serves : 4 to 6


Methods
1) Marinate crabs with salt and pepper for 20 minutes. Put crabs, plain flour and rice flour into a large plastic bag. Shake bag until crabs are well coated in flour.
2) Heat oil and deep fry crabs until cooked or golden in colour. Leave aside.
3) Heat 2 tbsp oil in a clay pot. Sauté chillies and kaffir leaves for 1/2 minute. Add evaporated milk, Prego Cheese & Herbs sauce and stir until mixture is smooth.
4) Once it starts to simmer, lower fire and add in fried crabs. Stir until crabs are well coated in sauce. Turn off fire. Serve immediately.