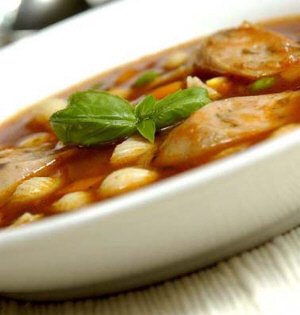 Product(s) Used for this Recipe
Country Style Sausage and Vegetable Soup

Ingredients
375g Prego Mushroom sauce
3 cups water
2 tbsp chicken granules
100g small pasta shell or pasta of your choice (cooked according to instructions on packet)
4 beef or chicken sausages
1 large onion, chopped
2 cloves garlic, chopped
1 cup frozen mixed vegetables
2 tsp dried oregano
2 tsp dried basil
Salt and pepper to taste
3 tbsp olive oil


Cooking Detail
Preparation time : 20 minutes
Cooking time : 15 minutes
Serves : 4


Methods
1) Heat 3 tbsp olive oil and fry sausages until cooked. Remove and cut into bite sized pieces.
2) Use the remaining oil to fry onion and garlic until fragrant. Add Prego Mushroom sauce, water, chicken granules, oregano and basil.
3) Once it starts to boil, add mixed vegetables, cooked pasta shells, salt and pepper to taste. Turn off fire when it starts to boil again and serve immediately.