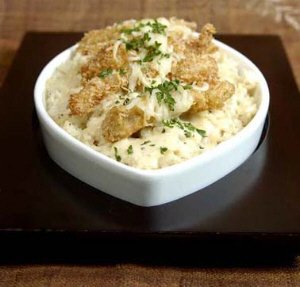 Product(s) Used for this Recipe
Prego Baked Cheese Rice

Ingredients
300g chicken fillet, sliced into strips
2 tsp salt
1 tsp soy sauce
1/2 tsp ground pepper
2 eggs, beaten
1 cup breadcrumbs
4 cups basmati rice
3 1/2 cups water
3 tbsp chicken stock concentrate
1 can Prego Cheese & Herbs sauce 290g
1/4 cup shredded mozzarella cheese


Cooking Detail
Preparation time : 15 minutes
Cooking time : 45 minutes
Serves : 8


Methods
1) Marinate chicken with salt, soy sauce and pepper for 20 minutes.
2) Dip marinated chicken into eggs, then breadcrumbs and deep fry in oil until golden in colour. Leave fried chicken aside.
3) Wash rice and cook together with water and chicken concentrate in a rice cooker. Once rice is cooked, add in Prego Cheese & Herbs sauce and leave it to stand for 1/2 hour before mixing.
4) Place cooked rice in a casserole, top it with fried chicken and sprinkle cheese over it. Bake in a preheated oven until cheese melts. Remove and serve immediately.