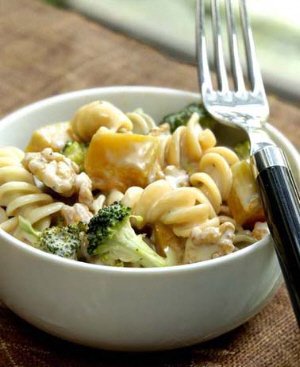 Product(s) Used for this Recipe
Pumpkin, Broccoli and Walnut Pasta

Ingredients
320g coloured spiral pasta (cooked according to instructions on packet)
1 can Prego Cheese & Herbs sauce
1 cup fresh milk
1/2 cup shredded cheese
1 large onion, chopped
1 1/2 cups broccoli florets
1 1/2 cups sliced pumpkin
1/2 cup walnuts, toasted
3 tbsp olive oil
Salt and pepper, to taste


Cooking Detail
Preparation time : 20 minutes
Cooking time : 20 minutes
Serves : 4


Methods
1) Boil or microwave broccoli and pumpkin until tender. Leave aside.
2) Heat 3 tbsp olive oil, sauté onion until fragrant, add milk, Prego Cheese & Herbs sauce. Keep stirring until it boils, and stir in shredded cheese. Add salt and pepper to taste.
3) Combine cooked pasta together with broccoli and pumpkin. Pour sauce over pasta, toss through and sprinkle walnuts over it.