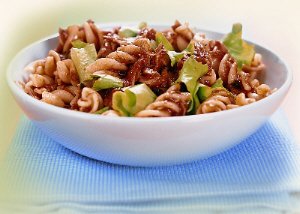 Product(s) Used for this Recipe
Tuna and Iceberg Lettuce Pasta

Ingredients
1 can Prego Traditional 300g sauce
1 tbsp olive oil
2 shallots, sliced
1 cloves garlic, crushed
1 can Tuna chunks in brine or water
50g iceberg lettuce
200g spiral pasta (cooked according to instructions on packet)
Salt and pepper to taste


Cooking Detail
Preparation time : 10 minutes
Cooking time : 25 minutes
Serves : 2 to 3


Methods
1) Heat olive oil, saute shallots and garlic till fragrant. Put in cooked pasta, Prego Traditional pasta sauce and stir until pasta is well coated with sauce.
2) Then add in tuna and lettuce and stir for 1 minute. Add salt and pepper to taste. Serve immediately.